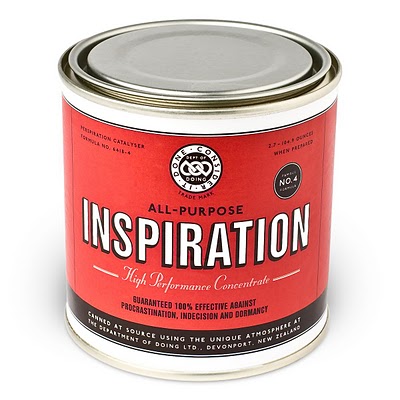 At last, inspiration in a can, guaranteed 100% effective against procrastination, indecision and dormancy. Now how nice would that be to just pop open a can of inspiration for positive results.
How thrilled am I to know that since my blog journey began that I have in some way been a source to inspire others on a path to create or design their very own dream into a reality.
Two summers ago while in Chicago on business, a blog reader invited me to lunch and she shared her passion for wanting to start a business that would allow her to design and create a more artful life while raising her family. She held a position that was flexible, but longed for something more creative. How thrilled was I to speak to her and know that perhaps I helped to inspire her (and her partners) to launch
Inspire HG
. You can order from them at their etsy site or attend their upcoming show in Western Springs, IL. (see site for details)
I would Love to know if my blog may have given you a push to design, create or inspire a more artful life . Leave a comment or contact me if you have a story to share. I would be happy to share your story with others. A "can-do" attitude is inspirational not only to me but to so many readers.