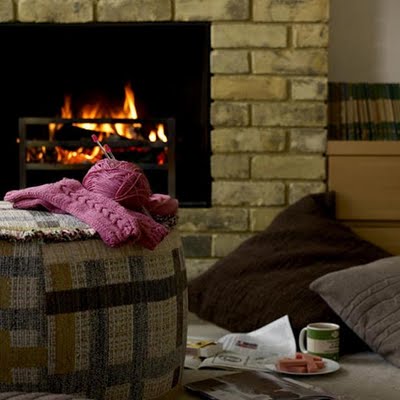 photo from apartment therapy
Today is all about "warm-ups" – First thing is one-hour of tennis indoors and then back home to grab my knitting bag and gather with my group for our weekly knitting. ( Followed by a pile of artwork to be done! ) which brings me to a list of great ideas for you to "warm-up" to.
1. Clean your house – which gets your blood going.
2. Take a brisk walk which will warm you up and get you going.
3. Drink warm liquids.
4. Make a home-made pot of soup or stew. Your home will smell good too!
5. Take a hot bath.
6. Dress in layers.
7. Knit a colorful afghan or blanket.
8. Add warm colors to your home, rusts, orange, red, caramel, browns.
9. Build a fire (if you have a hearth!)
10. Rake leaves or sweep.
11. Make a pot hot mulled
cider.
12. Bring some fall touches inside, a basket full of apples, some foliage, warm candles….
Warm-up your day with just one of these ideas to keep you cozy.
How do you warm-up when you have a chill?