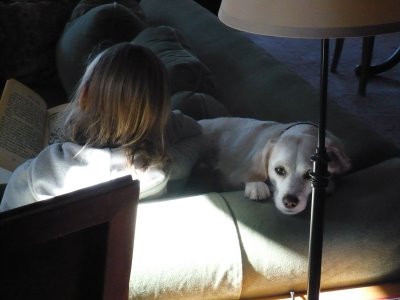 early morning slow down, reading with a friend
When was the last time you actually slowed down, long enough to sink into your sofa with a good book and a dog. I was whirling about the other day, and captured this lovely site, my little girl reading with our faithful companion, Bentley. I could not even get upset that he was on the "good" couch. I mean how is a dog supposed to know which one is good from bad? The light was streaming in, and all was right in my world.
So, tell me, how do you slow yourself down and give yourself permission to slack, to be a loaf, a slug, a sloth and just slow it all down. I am giving myself permission to hurry up and slow down.  Today is the last day of school (yes in the North East school ends the end of June) and it is time to embrace summer and slow down.