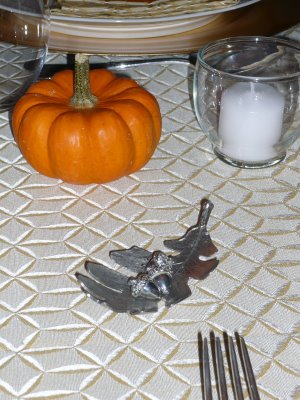 Today, I am thankful for you.  I am grateful for the tall oak trees "giving us nature, beauty, strength, life and wisdom"- the above oak leaf and acorns bring Joy to my table.  They set the "Perfect-Beginning" for this day full of grace.  Joy sent these to me.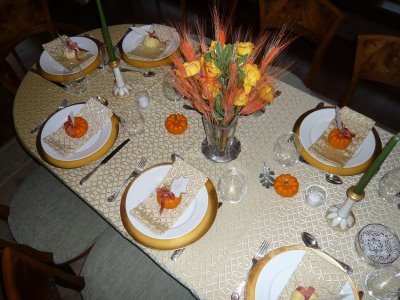 Here is my table that I had so much fun setting.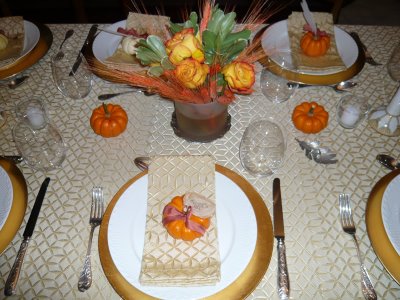 For the place cards, I cut oak leaf, and leaf shapes and painted gold on the edge, then tied them to small pumpkins with bias binding.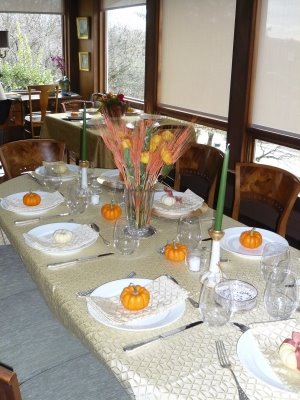 Today we have two tables set for a bountiful feast, Turkey and all the trimmings!
This table is for the "grown-ups" but truth be told, I will never grow up!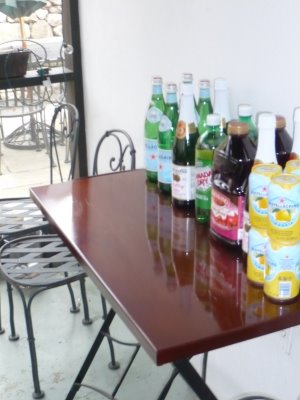 Outside on my back porch, the beverages are chilling and ready for a thirsty bunch.  Cheers to each of you who brighten my day with your comments, your e-mails and your energy!  Break bread, say grace and raise your glass to one another and give thanks!  Chin Chin!  I have some very special desserts which I shall share with you friday.   To those of you that are unable to be with family, I will think of you too.  Happy Thanksgiving today.