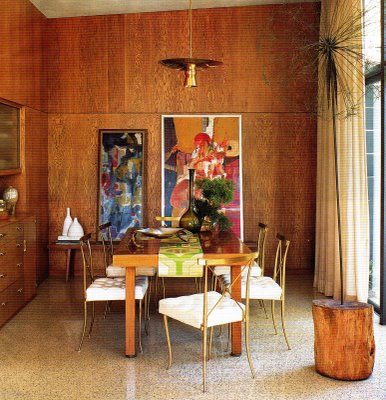 This is one magazine tear sheet that I have saved for years from ELLE Decor. Home of Designer, Trina Turk – she dines here in this chic dining room full of fabulous finds.  Vintage brass chairs by William Haines and a Herman Miller Table.  The table runner is an antique Japanese obi.   Note the bonsai tree.
New does not excite me as much as something "vintage."  Shopping and scouting for something 
from an era gone by has far more appeal.   The quality seems to far surpass some new things made today.  Certain materials were ever popular, brass, various woods, white leather and created to make practical designs with form and function in mind.  Also the allure of the hunt, the stories behind vintage along with learning about something old, makes me feel new.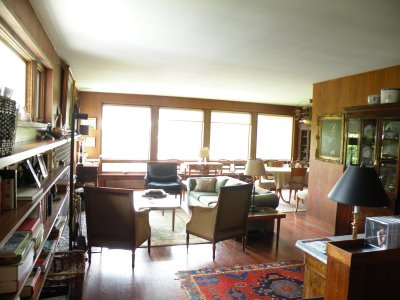 This is my home, my vintage home built in 1949.  Everything has a story and was given, found, or bought from thrift, antique or consignment shop(s).  The only items that were purchased new are the lamps and the dining chairs -in order to find a matching set of eight.  
Light up your space or closet with something great from another era.  Collect vintage and you will see how quickly your finds will increase in value and in vogue.   Do your homework on-line and start to look for your favorite vintage items.  Do you have a favorite vintage purchase or item in your home.  Does it have a story?