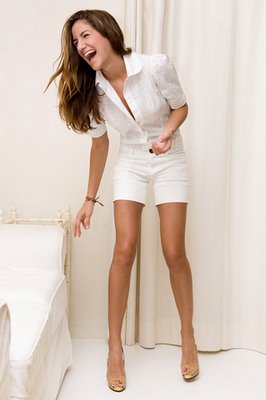 Have you ever longed for glamourous legs like these?  This gal, Minnie Mortimer looks so happy-go-leggy that I just had to post her.
Habitually Chic
posted about Minnie and her own line of fresh fashions, click
here
to see.   Well – have you ever thought about bringing a great pair of legs into your home, I am talking about a perfectly poised table or chair.  The photos below are from interior designer, 
Todd Romano Home.
Lay down on the floor and take a look at the legs of your home.  Will you take a look at these legs and the mixture of legs, from twiggy, to curved, to just freshly waxed with high gloss lacquer.  It is as if these legs would be comfortable walking down any fashion runway.  
I love the mixture of the style and color of the legs.  Each piece certainly stands alone but they seem to be quite pleased to be in such good company.  I bet you will never think of legs the same way now. After all, it is summer.  Time to show some leg.