Designers design collections inspired by color.  A collection may begin with a swatch of a beautiful color and then everything radiates from that color.   Some of the most successful designers remain tried and true to color palettes that work season after season.  Most of us do find the color that works best for us and then infuse it with an accessory or accent piece.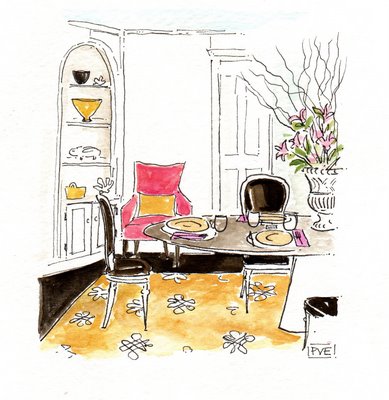 Selection of color in designing your interior space is one that requires confidence and the ability to identify your favorite colors.  Combining colors in a unique way against a contrasting
floor is bold and beautiful.  I always say to clients when advising color, "most people go bold or beige."  It is interesting to see bold colors against a beige backdrop or visa versa.  The above illustration was done for one confident lady at
blink decor
.  She knows how to give things a fresh vibe.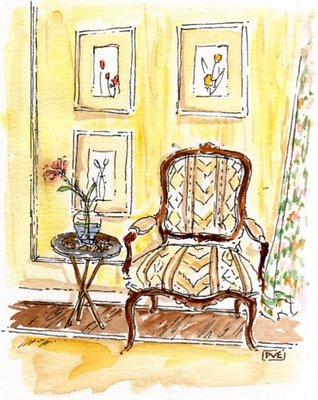 Everyone knows that
Mrs.Blandings
has a way with "buttah" yellow.  Rich creamy yellows set the stage for an elegant setting.  Yellows and golds remind one of the sun and have been said to dispel darkness while increasing joy and optimism.  Wearing yellow can enhance articulation and verbal dexterity – words seem to flow easily when this color is in view.  This explains Mrs.Blandings knack for flowing words in every post.  Are you are golden girl, with the midas touch?  What is the color that has your name on it.
The above illustration was done for a client as a wedding gift.   The home is painted a rich creamy yellow.  The yellow looks like a ray of sun in this wintry setting.  
Warmest wishes to all you golden girls.