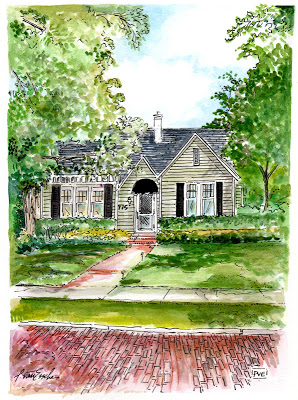 I don't know about you, but having that extra daylight last night was such a treat.
Very often, I work from client's photos.  All of my work is done by hand and I begin by looking at the photo and figuring out ways to add lightness and brightness.
It is not plugged into a computer.  Again, I do everything by hand.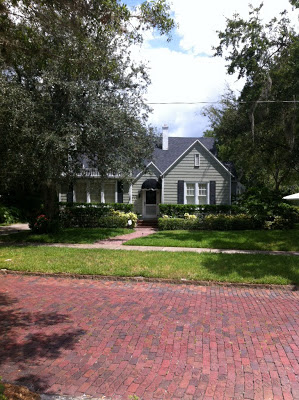 It is important to firstly focus in on what is the main attraction.  I spend lots of time looking at all the details and make a list of all the things that I love.  I love the round black awning at the front door and the black shutters.  The brick road in the front is amazing although I know that I need to keep the attention on the house and make you want to go to the front door and find out more about what's inside.
The light is streaming in from above although the shade seems so inviting under one of those gorgeous tall trees.  
Many readers ask me to explain a bit of my process and how I work.
I am always happy to answer any of your questions.  
Are you enjoying that extra hour of daylight in the evening.  It is nearly seven am and it is pitch black but later today, that extra daylight will be so appreciated.