Check out this catalina 3/4 sleeve top for Spring from J.McLaughlin.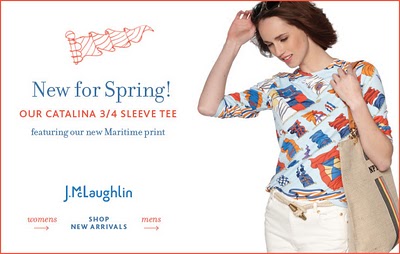 I always think a new maritime print can add a touch of smooth sailing to my day.
As I wake to yet another dusting of snow, my thoughts "sail me away" to warmer waters.
Pop over
here
to look at some new arrivals for Spring.
I'd like to thank Shari of
"little blue deer
" for giving me back my signature green logo here, after living without it for a few weeks, I realized how much it was a part of my life and I missed it so much. Shari, you are super to work with! Shari does great work and custom blog design.