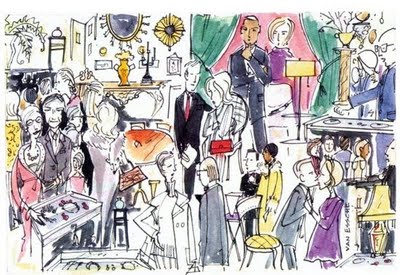 pve design artwork for the New York Winter Antiques Show via The Memorial Sloane Kettering Cancer Society circa 1990's.
Today, I am feeling rather Thankful. As we are about to begin the season, with a day of Thanks followed by the hectic Holidays. To do, "shopping, wrapping, giving, socializing, checking one's lists"- check them twice! Know that the smallest most random act of kindness will be appreciated to those in need, even the one who you think has "everything." Give from the heart, a hug, a kiss, a greeting to show your thanks, a letter, a card, a thought. This year, challenging economic times remind us to dig deep, to support a cause and to remind us to never stop to give gratitude.
Thanks a million to each of you. I wish each and everyone a Happy Thanksgiving.