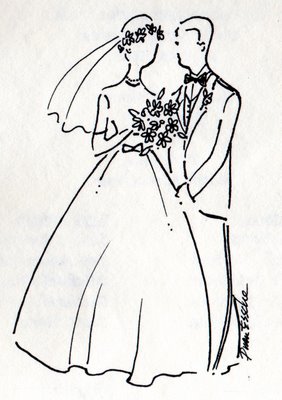 I am leaving today, on a jet plane, don't know when I'll be back again…now that does sound really nice, but I am headed to Chicago to work, to"illustrate" a wedding! My heart is already 2 sizes larger with excitement to see a couple I have never even met, and then to illustrate that love on paper. I also will have the pleasure of meeting for dinner with a wonderful fellow blogger.
I know that the
wedding details
will be incredible and that I will be in heaven trying to capture it all right then and there. There is something tingly about doing this sort of work "live." I am praying for divine intervention, but then I know my blog fans will want to see what I see in the form of illustrations, right!
What sorts of illustrations would you have liked to have had or have of your wedding to hang in your home to remind you of that special day?