My hand knitted hats!  Circular knitting, aka "Idiots Delight!"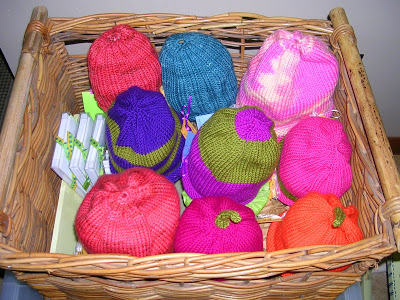 Every summer, I remind myself that the days are longer and with more light – it is always a good time to create.   I love to knit and to make tons of crafty items to sell as well as to gift. Keeping a basket of goodies for newborns, for teachers, and for family and friends is always good.  Filling it up is like stocking my very own little boutique.  I take great joy in completing small projects. As a Mom and an artist, nothing is more rewarding than finishing a project, like something hand-made.  I always look at things and tell myself, "I can make that!"  I love hand-made things.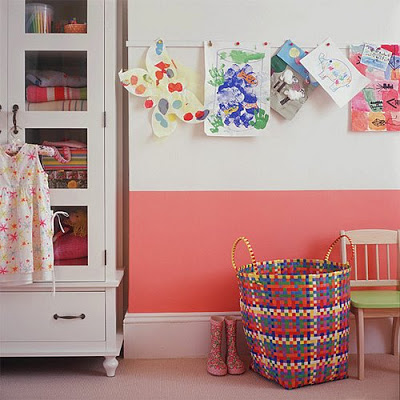 Children love to create, so lead by example.  (Above Photo from House & Garden -Nov.2005) Baskets provide great storage for my hand-made items and are easy to transport goodies to and from things like our annual school Holiday Boutique.   A tisket-a-tasket, love to know what you are making to put inside your basket, please feel free to share, even if it is not complete.  Perhaps this will inspire you to fill your very own basket of serendipity this summer!  After all – the Holidays will be here in a few months!
Just a few ideas for each of you;
Knitted Hats & Scarves
Note-Cards
Home-made Jelly
Board Books – Scrap books
Hostess Gifts
Needlepoint Ornaments
Ribbon covered address books
Hand-painted flower pots
Hand-painted trays
Hand-painted boxes
Totes