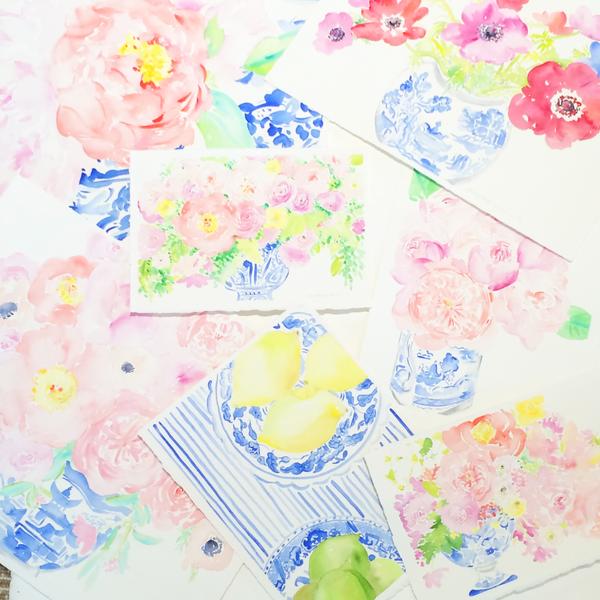 One of the best things about being an artist is making friends with other artists and being there for one another.  If you don't already know my fabulous friend Jeanne, well you should!  Here is the link to her site.  I lost track of how many paintings Jeanne has created but she has been on point daily to keep her brushes in the paint and truly her works embody the dreamier side of life.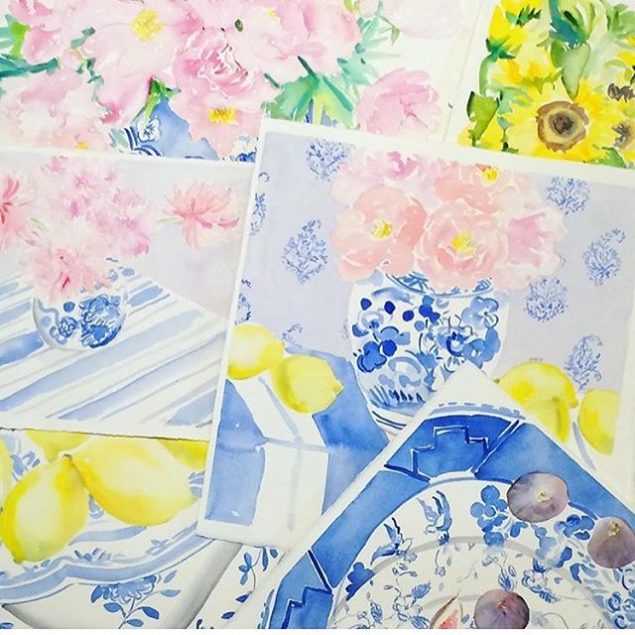 Lots of pretty pink flowers, zesty lemons, fresh figs and an occasional glass of bubbly certainly inspire a kinder and gentler life.  The best part of sharing Jeanne's art is having the chance to become friends through our blogs.  Our first meet-up was over a yummy gruyere grilled cheese in Manhattan and at the time Jeanne was still holding down a full time job with the dreams and desires to pursue her painting career full throttle and on her own terms.  It takes work to follow one's dreams, and to witness a heart flourish and find time to create an artful life, well – it's just wonderful!
Jeanne and I had a fantastic trip to London where we attended a Workshop for creatives which was wonderful.  We shared smiles, laughter and even a few tears but the best by far was sharing paint and our journey as artists.
Today, over 20 original works of Jeanne's art is available at the hip and happening Furbish Studio at 11.  The holidays are coming and what a gift to give art, perhaps you might want to treat yourself or a friend.  I feel incredibly blessed to have Jeanne in my life.  I wish Jeanne and Furbish a wonderful collaboration.