monday motivation – Autumn comfort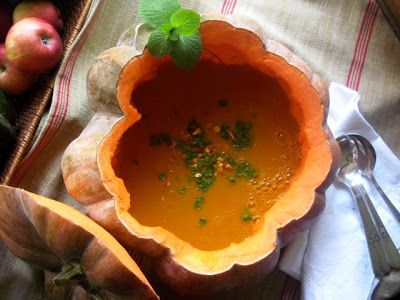 Although we are still having some warm days, the evenings bring a little chill and my kitchen and cooking are motivated by Autumn comforts. Soups, bone broths and the color orange all seem to be what I crave at this time. Last week, I had a call from a local charity to donate items that I no longer needed or wanted. So, this week, I am taking some time to gather items and then to find comfort in sharing with others who are in need. I found some sweet little jars to deliver soup in so I will be making a huge cauldron of soup to share as well.  A sweet neighbor delivered freshly picked apples from a farm, so I have been making applesauce and adding them to roasted veggies.
The above photo is from a dear friend who created and served soup to me a few Autumns ago but I will never forget how artfully prepared this was. What comforts and inspires you in Autumn?