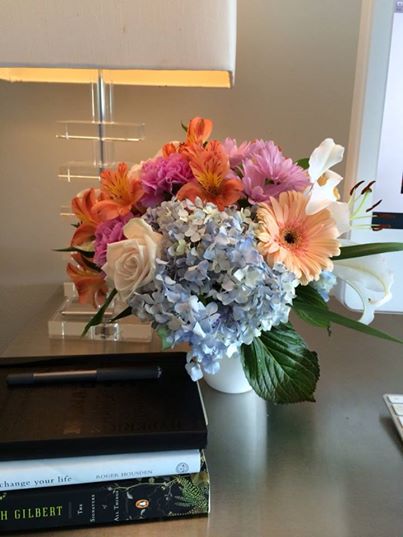 Thank-you for the flowers, the notes and the outpouring of love that has been received over the past few weeks. The one message which I would like to share with each of you is to "treasure" everything around you. If you are in need of a little inspiration or creative encouragement, try to create a little corner with some fresh flowers, books and time to treasure everything and everyone you love.
One of our twin sons left last Saturday for his senior year of college. My husband and I were mindful of his departure and the fact that he seemed so nonchalant about packing up his car. We were both worried that he might forget something so we kept asking him if he had everything. The very next morning, he sent me a text that he had forgotten two id's that he had left in the scanner. Part of me wanted to get upset or angry at him as to why he could not be more organized, the other part of me knew that sending them was what I had to do and did. I reminded myself to focus on what I treasure.
There is always so much to do the end of August preparing to send twins back to college and prepare another child for high school. I feel the door of Summer closing and the window of opportunity opening with the start of a new Fall season. The ending of Summer and then the beginning of Fall. Night seems to be coming earlier with darkness falling around eight o'clock. Mourning the loss of a loved one, a season, a treasure to remember and to find comfort with family, friends, books and flowers that things will keep one moving ahead.
Thank-you to Leslie of Hadley Court for her kind post and for sharing my artwork with her readers. I treasure each of you for your support and the outpouring of love for my artwork.
The winner of the Anne Ward, Garden of Intention cards is "Lee." I know you will treasure them and the positive messages that each card inspires.