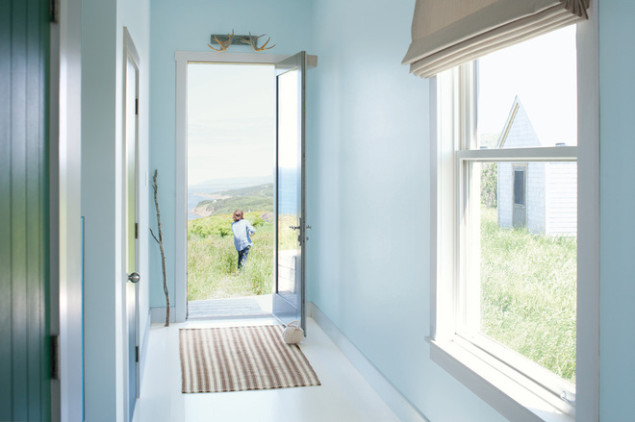 Does a color so aptly named "breath of fresh air" inspire you to feel restored? I am in love with this paint color from Benjamin Moore. I am back to blogging and feel renewed with a clearer purpose and passion. During my break, I took some time to assess things and made a list of my good and my bad. I think one area I really need to incorporate in my life is taking time out for fresh air and me time. As a Mother, wife, artist and more, I balance things for everyone but not always as best I could. Let me give you an example;
Last night as I began to prepare dinner, I took the chicken out of the fridge and nearly fell over from the pungent foul odor. Bad. I had bought it the evening prior at a local butcher shop and I had no plan B. I kept thinking how things happen all around us that are out of our control. Having given myself permission to take time earlier in the day to attend a nice leisurely lunch made me realize how each of us need time out for fresh air and restorative treats.
My son is coming home today from Army Boot camp as his blood pressure is high and they released him. This is another thing out of my control, but nonetheless a concern that will be addressed and remedied under our doctor's care. So, as life throws us "stink balls" or "raises our blood pressure"- we must find focus by breathing in fresh air, right? It sure puts things into perspective as to what matters.
All that said, I am back and I look to find more authenticity in my life, in my relationships with my family and my business. Rather than beat myself up, I am going to concentrate on my passions and work around this. Creating a beautiful life is important to me and inspiring others is something near and dear to my heart. Take time out for some fresh air and time to fill your life with passion and renewed purpose. Does this color inspire you to breath and give you a little oxygen?