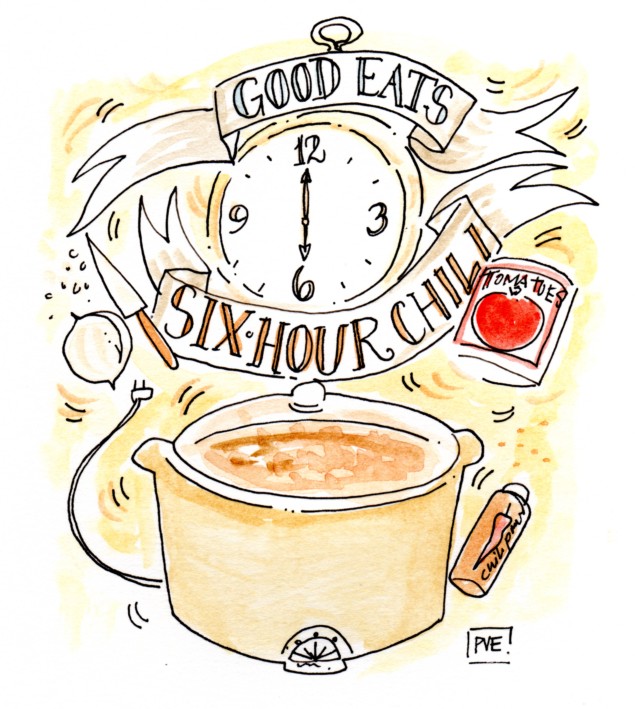 As the winter months arrive, our slow cooker becomes a go-to appliance for preparing heart warming stews, soups and chilies.  This is a wonderful recipe which I know you will Thank-me for.  I have also adapted this recipe and added a jar of "Salsa" which adds a nice kick.  That is up to you and how daring you are with your tastes.
6-Hour Chili
Adapted from a recipe from Williams-Sonoma Kitchen. Serves 8-10
4–5 pounds lean ground beef
5 garlic cloves, minced
1 yellow onion, chopped
1 can (28 ounces) chopped tomatoes, undrained
6-8 tablespoons chili powder
2 teaspoons dried oregano
1 teaspoon ground cumin
salt and freshly ground pepper, to taste
1/3 cup cornmeal
2 cups unsalted beef stock
sour cream, chopped red onion, grated, cheddar cheese, and/or cilantro for garnish
Directions:
Brown half the beef in a heavy sauté pan over medium-high heat. Using a slotted spoon, transfer to a slow cooker. Repeat with the remaining beef. In the same pan, sauce the onion and garlic. Transfer to the slow cooker, adding tomatoes with juices, chili powder, oregano, cumin, salt, pepper, cornmeal, and stock. Stir to blend. Cover and cook for 6 hours. Skim the fat off the surface of the chili. Garnish with sour cream, red onion, cheese, and/or cilantro.
Congrats to Jennifer of JCWebb Studio, on winning the "Never never never give up pouch."  I'll be sending it out shortly to keep you going.