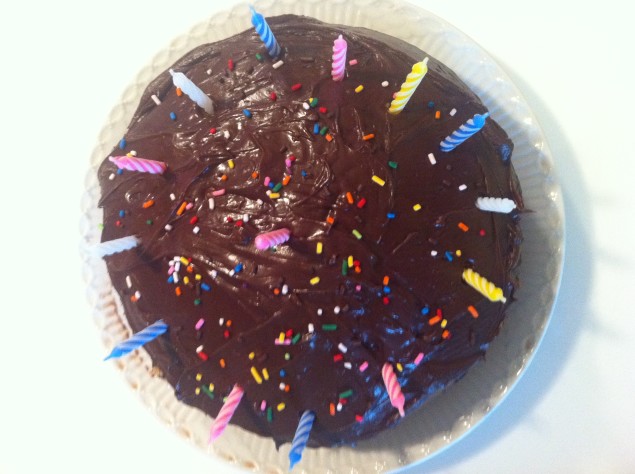 My youngest is now fourteen and has mastered the skills of convincing everyone that this past week was her "birthday week" and not just one day.  One of her friends actually believed her and has decided that it needs to be her idea.  I thought it was rather crafty, don't you?  I guess at the age of fourteen, you never want a party to be relegated to just a "day."
Together, we made this Yellow Cake with chocolate icing and sprinkles.  My daughter iced the cake and added the sprinkles and the candles.  I found it sort of freaky that the box of candles I had, there were "14" so there was no need to hop to the store.
Best Yellow Layer Cake
Everyone needs a killer yellow cake recipe. This one is from Smitten Kitchen, and dare I say, it should be yours too.  Somehow the thought of baking is associated to some sort of weird science. Every time. And if you've ever tried a yellow cake mix and wondered why yours didn't come out that consistently plush (but not freakishly unnatural) at home, dare I say it's because you hadn't made this one yet?
Yield: Two 9-inch round, 2-inch tall cake layers, and, in theory, 22 to 24 cupcakes, two 8-inch squares or a 9×13 single-layer cake (I have yet to audition the cupcakes, shame on me)
4 cups plus 2 tablespoons (480 grams) cake flour (not self-rising)
2 teaspoons (10 grams) baking powder
1 1/2 teaspoons baking soda
1 teaspoon (5 grams) table salt
2 sticks (1 cup, 1/2 pound or 225 grams) unsalted butter, softened
2 cups (400 grams) sugar
2 teaspoons (10 ml) pure vanilla extract
4 large eggs, at room temperature
2 cups buttermilk (475 ml), well-shaken
Preheat oven to 350°F. Butter two 9-inch round cake pans and line with circles of parchment paper, then butter parchment. (Alternately, you can use a cooking spray, either with just butter or butter and flour to speed this process up.)
Sift together flour, baking powder, baking soda, and salt in a medium bowl. In a large mixing bowl, beat butter and sugar in a large bowl with an electric mixer at medium speed until pale and fluffy, then beat in vanilla. Add eggs 1 at a time, beating well and scraping down the bowl after each addition. At low speed, beat in buttermilk until just combined (mixture will look curdled). Add flour mixture in three batches, mixing until each addition is just Incorporated.
Spread batter evenly in cake pan, then rap pan on counter several times to eliminate air bubbles. (I like to drop mine a few times from two inches up, making a great big noisy fuss.) Bake until golden and a wooden pick inserted in center of cake comes out clean, 35 to 40 minutes. Cool in pan on a rack 10 minutes, then run a knife around edge of pan. Invert onto rack and discard parchment, then cool completely, about 1 hour.
She wanted to make her cake so we found the perfect recipe.