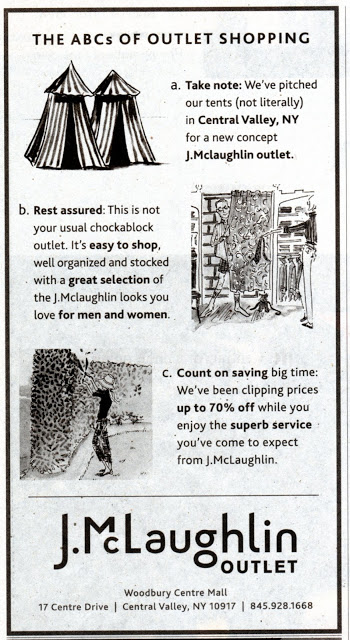 Let's face it, everyone needs to have a creative outlet.  For as long as I was a little girl, I have been drawing, painting and creating.  Many people always comment that they cannot even draw a straight line.  I laugh and tell them "that's what rulers are for!"
Here is the advertisement in the New York times Metropolitan section with my illustrations for J.McLaughlin for the new outlet opened in Woodbury Centre Mall.  So for those of you that love to shop and also love saving, pop in to the new outlet shop.  The drawings have gotten great mileage and have certainly helped me to grow my creative business too.
I have another advertisement to share from my teenage days that was in a local paper for a shop.  Do you have a creative outlet that is just elementary or natural to who you are?