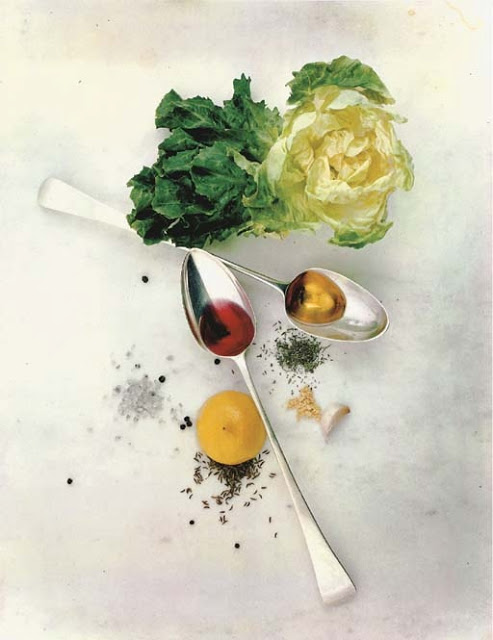 I love this photograph from Irving Penn, 1947 – "Salad Ingredients" – As long as I have been with my husband, he has carefully prepared some of the most delightful salad vinaigrettes.  Just last night as he prepared a fresh dressing, he asked me to buy more Trader Joe's balsamic vinegar.
All you need-
good olive oil
vinegar
 lemon
salt
garlic
 mustard and herbs to your liking.  Fresh parsley, chopped chives, and grated pepper are also lovely finishing touches.
Mix in a glass bowl, whisk with a fork and dress and toss your salad and serve.
Just the other day, a dear friend dropped in for lunch and she said, you need to post more about your "french" background and I laughed as you see I am not french but am married to a man who grew up in France, so I guess all his French has influenced me and my life.  So our subject immediately went to France and food.  It's true, the French know how to live life by simply using the freshest ingredients.
Simple salad ingredients shared are the best.