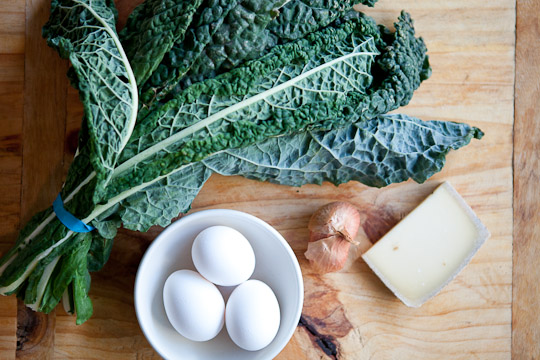 Winter Greens & Gruyere Tart with Cornmeal-Millet Crust
Serves 6 to 8
For the crust:
1/2 cup fine cornmeal
3/4 cup white-whole-wheat flour (or all whole-wheat flour)
3/4 teaspoon kosher salt
6 tablespoons cold unsalted butter, cut into ¼ – inch cubes, plus more for pan
3-4 tablespoons ice water
1/4 cup raw millet
For the filling: 
1/2 pound winter greens (like kale/mustard greens) – about 1 medium bunch, ribs and stems removed and torn into large pieces
1 tablespoon extra-virgin olive oil
1/2 cup minced shallots (about 3 shallots)
2 cloves garlic, minced
1 cup whole milk
1/4 cup crème fraîche (or full-fat sour cream)
1/2 cup grated Gruyere (about 2 ounces)
3 eggs, beaten
2 teaspoons thyme
Generous pinch nutmeg
1 teaspoon kosher salt
1/8 teaspoon freshly-ground black pepper
Prepare the Crust:
Butter a 9 x 1 inch tart pan with a removable bottom (can also use a 10-inch if that's what you have). Using a food processor, pulse together the cornmeal, flour and salt. Add the cubes of butter and pulse until mixture resembles coarse meal (alternatively, you can use a pastry blender or your fingertips to work the butter into the dry ingredients). Add ice water and pulse until the dough starts to look like wet sand. Test to see if it's done by gently squeezing a small piece between your fingers: you're looking for it to hold together and not crumble away. If it seems too crumbly, add more water, 1 teaspoon at a time.
Turn the dough out into a large bowl and mix in the millet using a fork — you want to work quickly here so as not to "cream" or stir the dough too much. Press the dough evenly into the bottom and up the sides of the prepared pan. Chill in the refrigerator for at least one hour and up to one day.
Preheat the oven to 375°F. Place the prepared crust on a small baking sheet for easy transport to and from the oven. Bake the crust for 15 minutes to slightly dry out the top so that it won't get soggy when you add the wet quiche mixture.
Prepare the Filling: 
Bring a large post of salted water to a boil and add the greens. Cook until just softened, about 2-3 minutes. Use a slotted spoon and transfer the greens to a large bowl of ice water to stop the cooking. Remove from the cool water and, using your hands, squeeze as much water from them as possible and lay the greens out on good work surface. They tends to clump into balls when squeezed, so spend a few moments separating it and "declumping" the greens.
In a small sauté pan over medium heat, warm the olive oil and sauté the shallots until translucent, 2-3 minutes. Add in the garlic and sauté for an additional minute. Remove from heat and set aside.
In a medium bowl, whisk together the milk, crème fraîche, Gruyere, eggs, herbs, salt and pepper.
Set the tart pan with prepared crust onto a baking sheet for easy transport. Spoon the shallot mixture on top of the prepared crust, followed by the cooked greens (arrange them evenly). Pour the custard mixture on top of the whole thing. Bake for 40-45 minutes or until the top is golden brown and the filling is completely set. Let cool for 15-20 minutes, unmold the tart and serve warm or room temperature.