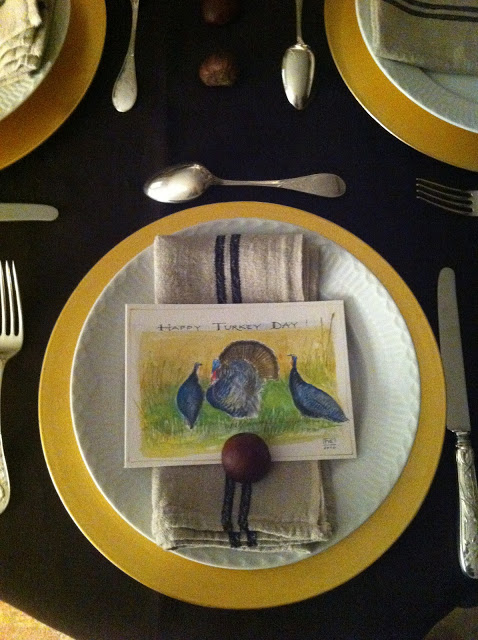 It's Turkey time in the USA.  Today is the day we gather to give thanks and share a turkey and lots of good side dishes. We give thanks.  It is indeed a day to celebrate with gratitude.  If you host this holiday, you know it involves lots of preparation and hard work.  There is something humbling when I think of the sheer work involved at that first Thanksgiving feast and now all the modern day conveniences we have at our fingertips deserve many thanks.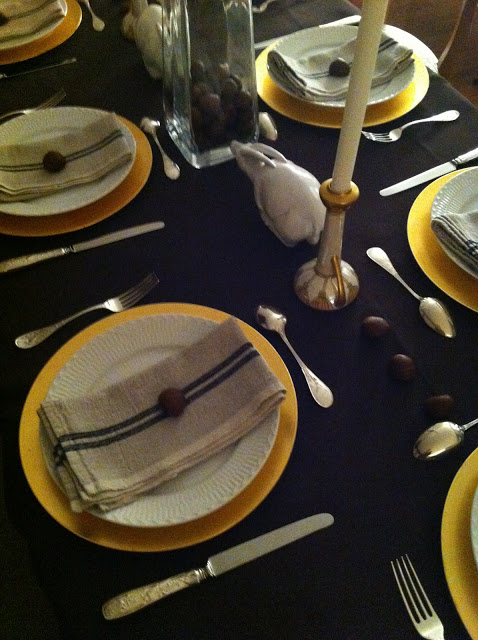 Just a little glimpse at the grown-ups table.
The homespun linen napkins are from
Heather Ross In House.
 It's a good thing I do not live nearby her shop, she has a great eye for wonderful home goods.  
Let me tell you that these napkins are scrumptiously soft and generous in size.
Everything else was gifted or collected over the years, our wedding Audubon Silver from Tiffany's, White Royal Copenhagen Porcelain dinner plates, Limoge Candlesticks, White Reindeer from an Antique shop in the city and the chestnuts were bought at Stop and Shop.  
The chargers appear yellow in this photo but in fact are gold from a nearby shop and the dark chocolate  linen tablecloth I bought years ago at Conran's in the city.
I am so very Thankful for each of you who pop in to visit or to leave me a comment.
Happy Turkey Day to you.
I am off to make the place cards and my thankful tree.
More pictures to follow.