a bowl of cherries – painting giveaway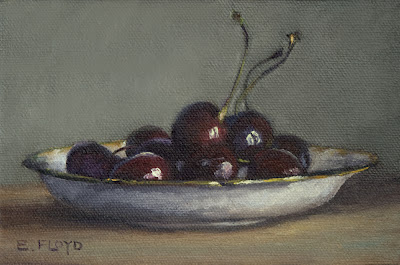 Eizabeth Floyd -bowl full of cherries painting 4 x 6
Last Sunday evening, we had our neighbors for dinner and they brought the loveliest bowl full of fresh cherries with a note ~"life is a bowl full of cherries" with neighbors like you.
Elizabeth Floyd – silver cup with twin cherries painting 4 x 6
 A fortunate dose of double serendipity, a wonderful artist
Elizabeth Floyd
 contacted me the very next day to give-away one of her lovely paintings with cherries.
Please visit
Elizabeth
, she has a wonderful site, a blog,
a shop
, a newsletter and a baby girl that will melt your heart.  Her paintings are exquisite.  They have an old world charm yet a freshness of heart.
I love connecting with other artists and mothers and bloggers.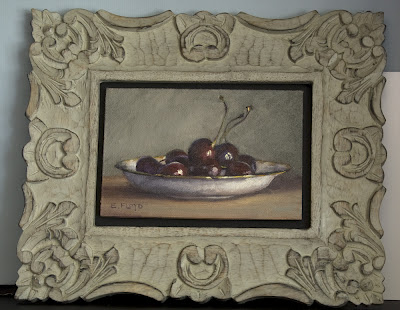 A bowl full of cherries.
You decide upon one ornately framed.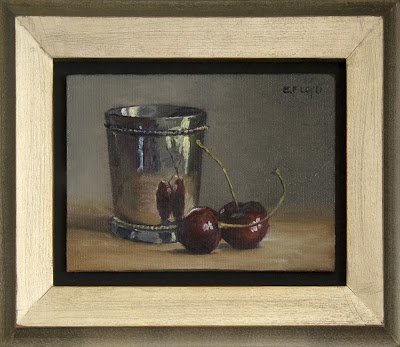 A silver mint julep cup with 2 cherries
( simply framed.)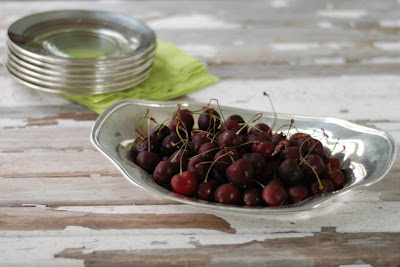 Then I happened to find this wonderful silver dish from
Silver Magpie
s, filled with cherries.  I think the universe has a way of always giving me signals.
I could not believe how similar the silver and cherrie still lives are so I reached out to Silver Magpie to ask her permission to share these wonderful images of her silver.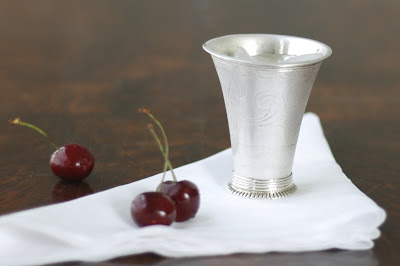 I read that the French who sailed from Normandy filled their pockets with cherries and when they arrived in Michigan, they planted the stone seeds along the shore.
Think of this post as planting a few seeds to connect with others and to fill your life and your bowls with cherries!
Leave a comment, which painting would you like to win.
Elizabeth will select a winner randomly.
Thank-you Elizabeth for such a lovely gift.
Winner is no. 45, Trina from A Country Farmhouse.
I do not count my comments in the selection.