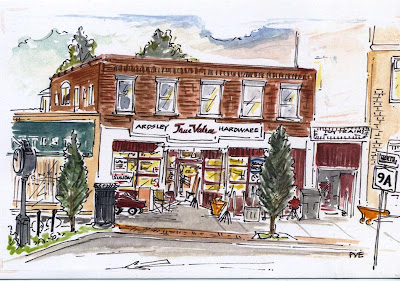 When I moved to this village one of the first spots I frequented was and still is, our local Ardsley True Value Hardware store.  Always greeted by our local owner Joe with a "Good Morning" to which I would reply, "Good Morning to you" and how are you today?  Joe always answers "Working hard and loving it."  I took it upon myself to give this sketch to Joe one fine morning and he proudly displays it on his computer screen and postcards that sit on the counter for customers to take.
Do you have a local hardware store or shop that you love to visit in your village or town?  Do something special for your shop or shop keeper and let them know how much they mean to you.
Each week I seem to pop in for something I need, lightbulbs, cleaning supply or various item and I am always so grateful to hear a whistle or a kind word.  Did I mention that Joe is an actor and a runner?  Now you see why he works hard and loves it.