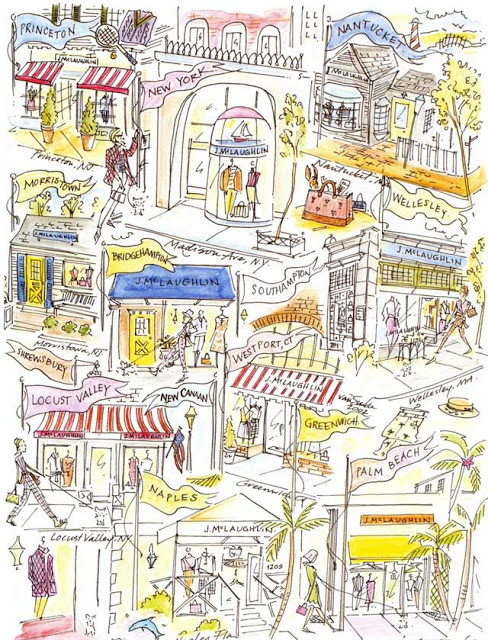 This happens to be one of my favorite illustrations done for J.McLaughlin years ago.  It made me happy then and now.  Over fifteen years ago, drawing, raising my children, and juggling my life – much like a collage or montage.
The idea of a collage or montage of sorts came to me while the challenge of gathering all the shops at that time was mind you simply around a dozen.  Now there are over 40 J.McLaughlin shops.  
The above artwork appeared in several magazines and was used for a press kit.
Just the other day, I spied a reputable madison avenue shop advertisement in The Wall Street Journal which had a similar hand to that of my artwork and it made me smile to think that perhaps might have inspired another artist or merchant.  Like any good parent, I stood up straighter knowing that leading by example goes without saying.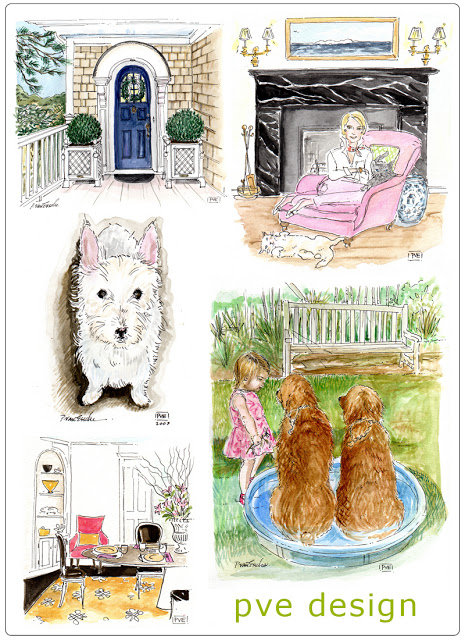 A few years ago, I sent out my own montage in the form of a post card which showed snippets of the array of artwork that I do.  I love looking back and also looking ahead to compile recent works and am in the hopes of having an illustrated book one day.  As I edit and piece my work together I realize that this makes me happy.   
I hope that you will look at your work as one happy montage.  Part of being a designer, an artist, a parent or even a friend is being able to stand back and see life as a collage of events, moments and memories.  Thank-you for your support of my artwork.  You have no idea how happy you make me.