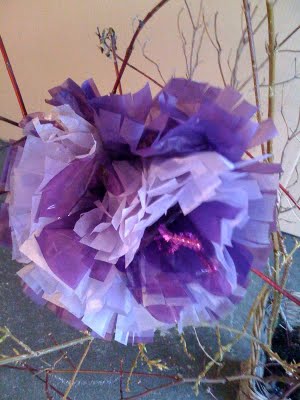 I have been busy making fun purple flowers for my daughter's dance benefit at Purchase College that will be part of the table decor for the silent auction. Since we have April Showers and no May flowers blooming yet and a small budget for decor expenses – I have to work with what I've got!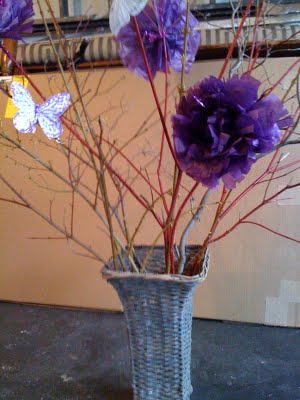 My florist let me borrow these really cool wicker vases. Branches have been gathered and cut and flowers made. Inspired by "
the art of doing stuff"
and her brilliant tissue paper pom poms…..I added acetate….and store bought butterflies. I attached the purple flowers to the branches. Brown paper will be used along with purple acetate to cover the tables. I am making birds now with signs for the various categories. A silent auction will be on display for the guests to raise money for the
Steffi Nossen
School of dance.
Just look at these pretty dancers spending hours in the studio preparing for this event. It takes tremendous dedication for the dancer (and the parent) to be on time for classes and dress rehearsals!
The show is tonight. My daughter will be dancing with a cast on her broken left wrist from a snow-boarding fall. One might say "break a leg" – but I think I will just say dance with your heart!
Good luck to all the dancers~