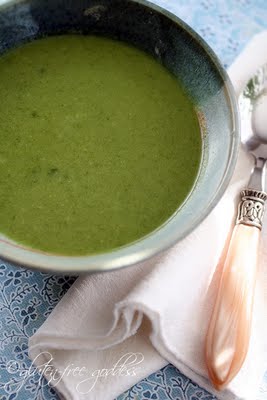 After indulging in one too many chocolate easter eggs, monday presents a new dawn, a new day and a perfect recipe for making detox soup. Not only does motivation need to be nourished, but to keep one's reason for staying healthy, a regime of soups can aid in clarity of mind, skin and weight loss too. Nothing like a fresh green soup to start off the week with healthy motivation!
Here is the recipe in case you would like to join me.
Detox Green Soup Recipe with Broccoli, Spinach and Ginger
This easy detox soup can be thin or thick, depending upon the amount of water you add. It cooks up fast. We served ours with a modest scoop of hot cooked jasmine rice
in the middle. Super good.
You'll need:
1 tablespoon olive oil
2 cloves of garlic, chopped
2 tablespoons diced onion
1 inch of fresh ginger, peeled and chopped
4 cups fresh broccoli, cut up
1/2 pound of fresh spinach leaves
3 parsnips, peeled, cored, chopped
2 ribs of celery, trimmed, chopped
A handful of fresh parsley, roughly chopped
Fresh water, as needed
Sea salt and ground pepper, to tatse
Lemon or lime juice
Using a large soup pot, heat the olive oil over medium heat and stir in the garlic, onion, and ginger to season the oil. Add the broccoli, spinach, parsnips, celery and parsley, and stir a bit until the spinach wilts and collapses. Add just enough water to cover the vegetables. Remember the spinach will cook down quite a bit, so don't add too much water at first. You can always thin the soup later, if you need to.
Bring to a high simmer, cover the pot, and reduce the heat to a medium simmer. Cook for fifteen minutes or so until the veggies are softened.
Use an immersion blender
to puree the soup.
Taste test. Does it need brightening? Add a squeeze of citrus.