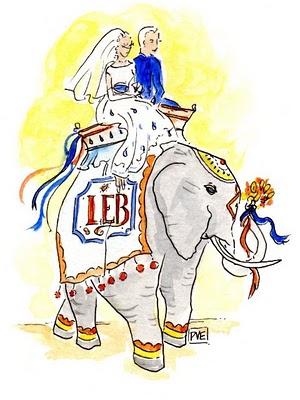 Nothing like a wedding to motivate one to create a special day full of meaning for the guests as well as the star of the day, the bride and groom. I was so inspired by Everything LEB as she posted her wedding ideas and happy colors.
I illustrated this special work of art for her which she is using on her wedding day. It is actually at my framer, being beautifully framed with orange and blue and a pretty gold frame. Warm wedding wishes to the lovely couple, "trunks up!"
Let the celebration of love begin. The above cookies were the party favor at her wedding shower!
Wishes also over at
Reverie-Daydream
today, hop on over and toss a coin into the fountain and make a wish!