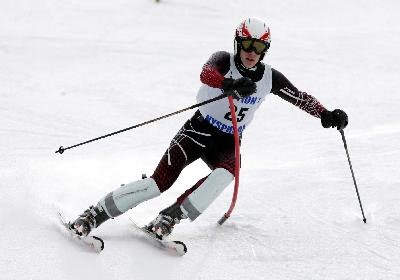 Here is my son, who will be skiing at The High School States in Lake Placid at Whiteface Mountain. Hurling yourself down the mountain like greased lightning wearing a speed suit constructed out of spandex takes great motivation and dedication. It is certainly not a sport for the weak nor the timid, however flying down the mountain there is an adrenaline rush that propels one to acquiesce to the finish line.
Along with motivation and dedication to the sport, an athlete also engages in the culture of the sport. Tuning skis, attending practice and fueling the fire to compete takes initiative and get-up-and-go. Up the proverbial mountain to slide down again, after all "repetition is the mother of learning" which is all part of our journey.
Only 8 weeks ago he had an emergency appendectomy and here he is back in the fast lane of life. He made history for his High school team, the first ever to make it to States for skiing. I have a strong feeling that what he has learned from this experience has added to his character and to his drive to succeed at whatever lies ahead. The dedication, the routine, sportsmanship is no doubt due to his desire to achieve.
As a Mother, witnessing motivation is a beautiful thing. We try so hard to hold on but we know that at one point they will just get-up-and-go. Motivation is one part just an innate philospy, originating from one's own mind and passion is another part to keep one coming back for more.
Do you think motivation can be taught, coached or comes from within?