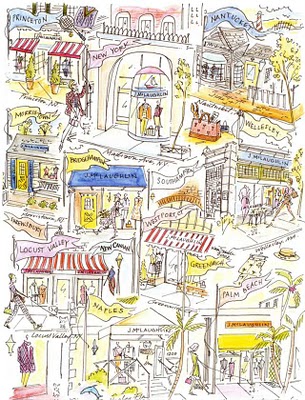 Years ago, I illustrated this work of art for the cover of a press kit for J.McLaughlin of the stores that they had at that time. I believe the store count was around a dozen. Currently, there are more than 40 stores scattered up and down the Eastern United States from Boston, New York, Nantucket, Palm Beach, Princeton, Charleston, Georgetown and The Hamptons and many more posh locales.
I began wondering about working on a collage of collectibles. I love collages, montages, decoupages and piecing things together. Then I thought suppose you had a collection of objects and you needed to take inventory, what about having them in a work of art. (Jewels, antiques, watches, wine, ribbons, medals, snuff boxes, silver, and the list goes on.)
What sort of brilliant collections do you have that would make a creative collage?