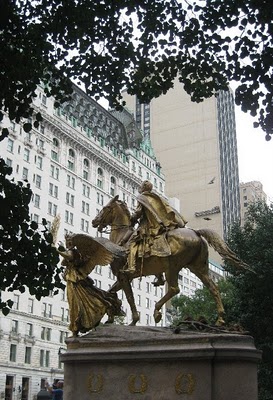 Some ask, "How do you do it all?" Truth be told, I really believe that I have several guardian angels around me. There are days that I take on way to much like some general and others that I just trust that a gilded guardian angel is there by my side. It sure helps to know that I have some sort of personal attendant and that it is not all being done by me. That is the key to doing it all, believing that you have some sort of aide-de-camp.
Each day, I give thanks for all the angels around me in blogland. Today, I will take my twin sons to see two colleges
here
and
here
and I will be looking for signs of angels around me. I know, call me crazy, but somehow it's a lot more fun to know that I have a little imaginary help.
Do you believe in angels? What are your guardian angels whispering to you?
photo of "Grand Army Plaza" take in NY by T.Perlmutter, (friend and angel of pve)