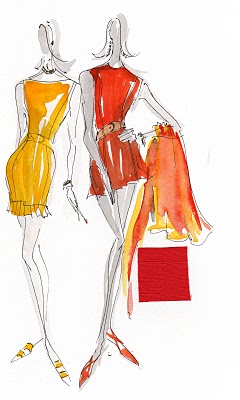 High temperatures can sure present a challenge to one to look "hot and sunny" while remaining cool, calm and collected. I was sharing my fashion portfolio with my daughter and she loved this illustration. She said, "Oh – Mommy, I love the coordinating shoes!"
So, tell me, how do you remain cool and calm during the high heat of July. We loved watching the world cup and seeing all the spectators wearing jackets and scarves.
Hop over to
Laura Casey
,
how could I refuse a
pve giveaway
– to someone so calm, so cool and so sunny! Take a look at Laura's Interior Design work on her site while you are there!