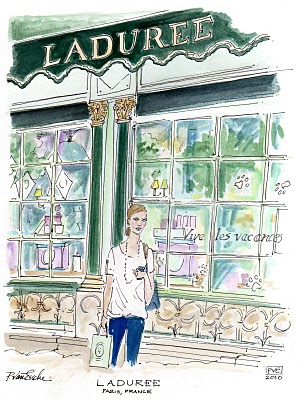 There is nothing sweeter than a vacation -especially when it is just a "Mother- Daughter" trip.
How would you love to vacation in Paris, right now? Here is my sweet client "texting" in front of "Laduree." She was so very "patient" with me for a series of illustrations and alas, they are "finished." My work load has been over the moon, for which I am ever thank-ful. Perhaps a vacation is just what I need to rest up, but I will keep my nose down, and my brush wet!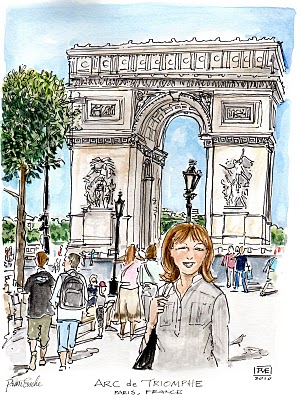 I love this one of her Mother standing in front of the "Arc de Triomphe" surrounded by tourists with cameras, backbacks and good walking shoes! Do you have any vacations planned to faraway places or will you be staying close to home?
I am off to fetch my dear husband and daughter who are in flight from a little trip to the South of France. I was extremely productive with my time while they were away, getting work finished and cleaning out closets and organizing some storage. It helped that I was devoted to eating raw which really helped to keep me focused. Simply cannot wait to share my good deeds with the vacationers and you this week. Checking off my list felt so marvelous.
Enjoy your Sunday wherever you are!