pve design photo -taken at the New York Philharmonic
historical music sheet elegantly framed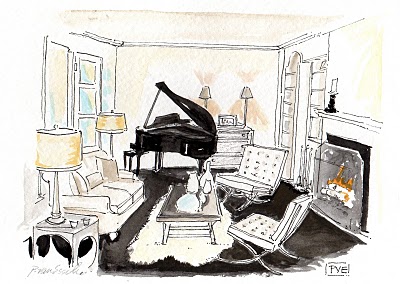 pve design -illustration for blink decor, jazzy living room
note-cards available for purchase in my pve shop on etsy
Today, a lovely young lady shall be celebrating in song. Her Mother (a repeat client) came to me looking for help with some party planning and decorations to add some charm to the campus room on the grounds of the college where her daughter shall be singing and celebrating.
A banner constructed of black and white music sheets mounted on black construction paper, hand lettered, hand cut and strung with black and white polka dotted ribbon reads, "Congratulations." A sign which reads "Music is the sound of Life" following on the theme of music sheets, hand lettering atop with some glitter and tags to wrap around each centerpiece with lovely quotes all about music. The last time I attended the New York Philharmonic, I had loved the idea of a framed piece of music, so that is where my inspiration for utilizing music sheets began. I also feel that black and white makes a strong statement and is graphically pleasing to the eye.
Congratulations to "Coop" on this Sunday. May your love of music and the gifts you share radiate from your heart and provide everlasting harmony in life, enriching others with the magic of song.