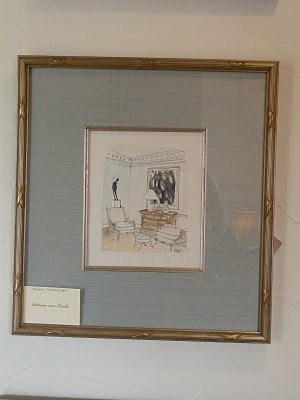 Original pve design framed artwork, sold, pardon my "wonky" photography skills.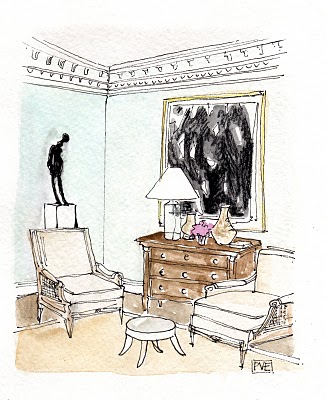 pve design – illustration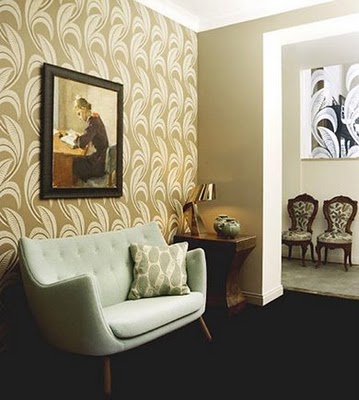 corner image from my design file of "things I love" – love the paper, that little sofa, and the corner table.

Sometimes we all need to grant our selves permission to leave our corner, and to go to another corner. Last night I ventured out to "Plates" located in Larchmont, NY -to meet Kristin van Ogtrop, Author of "Just Let Me Lie Down" as well as Editor of Real Simple Magazine. I am a bad judge of how many were in attendance, but let's say it was just the right amount given the spot which was charming as well as a place I would love to go back to for a night out.
When it came time for me to have my very own book signed, Kristin was so personable and funny. She asked where I had come from, and I truly did feel as if I had come from a distant corner, mind you a mere 9 miles away, just on the other side of Westchester County.
Meeting other women who Kristin coins as "half-insane" all out to give support, friendship and guidance as well as provide material for her humorous book. The insanity comes from balancing work, life, love, and Mothering. The women I met agreed that we were not half-insane but totally insane and loving our corners, not wanting to change a thing.
After the event, I was able to visit a dear friend, a Mom of twins just down the street, who has twin boys. The 5 year old boys had waited up for me (staying up a wee past the regimented bed-time hour) greeting me with bowls of popcorn and the family dog decided to come to sit beside me and suddenly I felt I was back in my corner.
So, tell me, is your corner half-insane or totally insane? Kristin, if you are reading, just for the record, I am about half-way into your book and laughing in my corner. I can relate to your corner of the world.