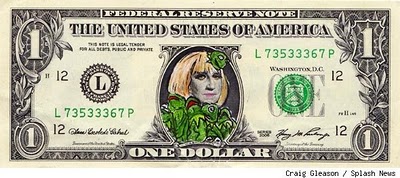 Lady Gaga goes Kermit Green
With so much talk the past months of the economy and of Lady Gaga, it seemed only appropriate to give Lady Gaga a spot on the cover of a one dollar bill.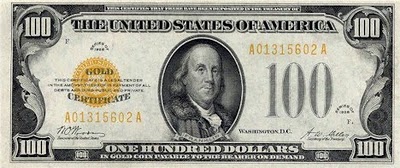 100 dollar, Ben undergoes the least change of face
Last Saturday, while driving into the city, I happened upon an interesting topic on the radio, about the change of face of the American currency. A noted NY plastic surgeon was on pointing out the many differences with the "new money." Certain measures to further protect the security of our dollar against fraud have been taken and changes to the actual faces have undergone a sort of "surgery" or had a mere "face lift" while under the knife.
The plastic surgeon said that Ben Franklin had undergone the least amount of changes while the other faces had been changed, botox to the brow, slimmer jawline, puffy eye bags reduced, receding hair lines given hair and an overall slimmer more youthful appearance. Quite honestly, all these years and I grew rather fond of these famous fellows. What's up with the change of face, just to meet the needs of our youth obsession?
Tell me, how do you feel about the change of face? What are we telling our fore-fathers? Stay tuned this week, for the topic will be all about shekels, dinero and moo-la and spare change. What would you like to know about change? What woman would you like to see in your wallet?