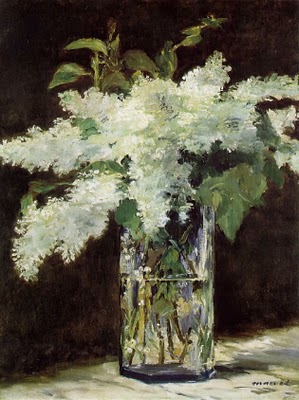 Each day, I aim to reward myself with a moment of what I like to call, "A still life." As a mother, life is anything but still, situations arise on a lark and the ability to reason, to decipher and to rationalize every little thing certainly helps to keep one on the prowl for that inner calm that no storm can shake.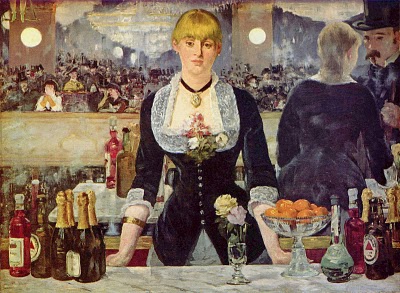 One of my favorite paintings by Manet is this fair maiden, working at the Folies Bergere. This work was one of his last paintings and to me, it evokes a still calm in life's chaos. In the reflection behind this pretty maiden, is a hustling bustling room, full of dancers, acrobats, music, and party people. Look again, and there is a man who appears to be ordering a beverage. Look in the top left corner, do you see the green socked feet of the lady acrobat perched perilously above the audience on a swing.
The maiden seems to be unruffled, she has a look of calm, in her moment of a not so still room. The signature dish or clementines denoting nature, order and freshness. Perhaps tonight was her turn to work the bar and she would rather be on the trapeze or the stage but instead, she appears like an outsider, behind the bar, looking within.
This week, I am challenged to find that calm space, to know that whatever life serves me, that there is a higher order. Emotions pull me, one twin son fell on the tennis court and at first what seemed to be a fracture is now a sprain of not one but of 3 ligaments. The other twin son was awarded and inducted into the National Honor Society. All of these events took place in a matter of a mere 24 hours. I guess you can imagine my test to rise to meet each occasion with a certain "grace" under pressure. Just like the above maiden, with all the action around her, she is choosing to remain calm, to find that still space, perhaps unattached, numb, but feeling inspired to find a moment of contentment with the blossoms in her bosom.
The lilacs are waiting for me, to clip them, to bring them in, to arrange a still life in a hectic one. Take a look here to find more about
the calm space.
I am honored to have been noted for inspiration and for looking around me to find everyday beauty. Thank-you Karen.
What inspires you to bring about calm to your space in the midst of whatever life decides to serve you? I hope I have provided inspiration for you to pick some blossoms, arrange them as you like and leave a few to tuck in your bosom, just to see if anyone notices.
Perhaps that is all the woman wanted, was to see if anyone noticed her calm collected self.
Paintings by Manet, Lilacs in a vase, Woman behind bar
*Winner of the Mothering Mother bags, is Pretty Pink Tulips. Please congratulate Elizabeth with a comment and welcome her to the not so calm world of blogging. She is a newbie, so we all remember that feeling of mistakes, and not being pretty or good enough. C'mon, don't you?