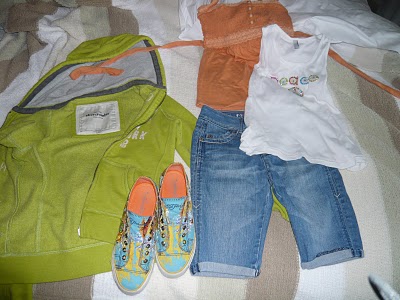 My daughter uses a bed as a display for the outfit for her day, she loves to lay out her proposed "outfit"and I just could not resist snapping this. What can I say – she loves color, loves a little sparkle and drama. She loves to layer, which I think is clever, especially when the climate is all about flux.
When she was little, I dressed her in classic clothes, sweet smocked dresses and lovely little prints. Perhaps all those classically composed outfits have backfired, and now I have a middle school fashionista. (She loves tie-dye, color, sequins, hi-tops, capris, hoodies and tanks, you get the idea.) If I had my way, I would have her in a jumper, a knit top underneath, knee highs and patent leather pilgrim shoes. (That is what I wore in middle school)
Part of being a good Mom and know what battles to pick, right!
I thought this would be fun, would you like to share your how you "outfitted" for the day? Does anyone else plan their outfit? Send me or post your outfit or someone close to you that you deem worthy of sharing!