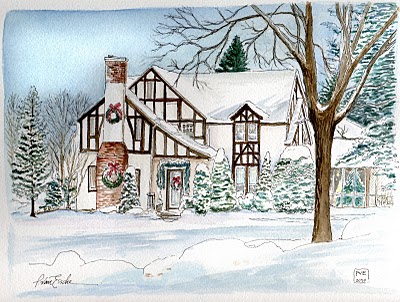 Holiday greetings can add so much stress to the holidays when all they were meant to do, was to bring a bit of merry, happy wishes to those on your list. There is one thing that amazes me, are those that can plan a "Holiday" Card way in advance. As the saying goes, "Early bird gets the worm!" I guess that is a good thing if you are a robin! Well, how many of you have your holiday greeting card all wrapped up and ready to sign, seal and deliver?
The above artwork request came in during the month of January and I was so thrilled to be get an "early" jump on this. This client surely must be pleased as punch that she has her cards all planned and that the snow is finally melting away.
Any takers for getting an early jump on the Holiday front, feel free to contact me in regard to custom artwork commissions.