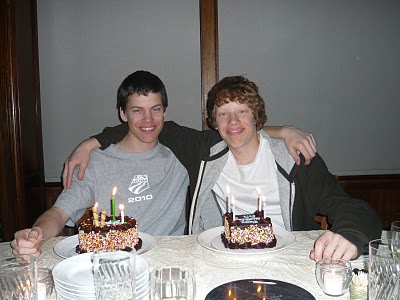 Celebrating Seventeen.
Sharing a sweet life with a twin knucklehead brother.
Completeing each other's sentences.
Fighting like puppies.
Comparing cakes and competing against one another.
Skiing fast across the finish line.
Seriously, do we ever outgrow the love of icecream, chocolate and sprinkles and giving birth to people that we can not measure our love for? I am so glad my sister told me to "pay attention" cause it goes so fast. I feel like it was just yesterday when I was changing diapers and nursing them. I know, TMI – too much information about a couple of now 17 year old knuckleheads.
A mothers love knows no limits. Even tough love. Hang tough sons.
Now make your knucklehead parents proud.