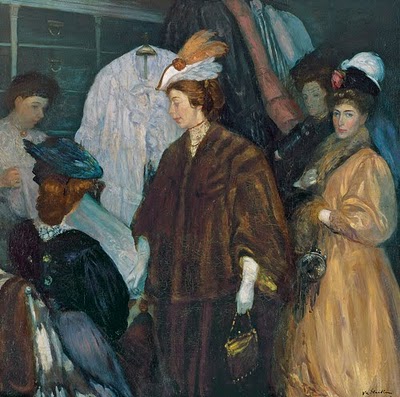 The Shoppers 1912, Artist, William Glackens
While I was away down south, we went to The Museum of Art in Fort Lauderdale and there I met the most wonderful work of William Glackens. Why had I never heard of his work? I was drawn to the images of everyday life that he captured in illustrations and in paintings. I fell in love with his work, as well as these lovely shoppers. These fine ladies are all decked out in such wonderful winter layers, yet I imagine them looking at fine textiles and pondering the hope of the Spring season.
After having been able to shed a few layers of winter and enjoy a little warmth, my thoughts turn to spring, seeds, bulbs and textiles. When I was a young gal, I would ride my bike to the local fabric shoppe and select something to entice me as I would be so anxious for the coming season.
Quickly, I am jolted back to the Winter, the snow is covering the ground and the fire has been lit to take the chill out of the house. My thoughts turn to shopping which brings warmth to my world. Please leave a comment to enter the sunny giveaway that I posted on Tuesday.