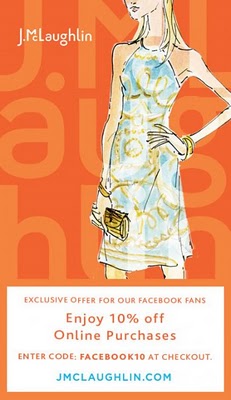 pve design illustration for jmclaughlin
There is something about the sun that makes me feel happy (along with nearly 400 followers!). In honor of the sun, and a few days reprieve from the snow I am hosting a wonderful give-away from my first sponsor, J.McLaughlin. For many years I have been illustrating for them and they graciously have offered a give-away.
Ladies and Gentlemen, you are invited to go to the J.McLaughlin site and look at new arrivals. Select the favorite item you would love to win.The winner will be announced on friday. (Randomly selected!)
Winner is Kelley from drawworm!
(posted friday 2-19-2010)
(Just wanted to share this fun facebook discount for J.Mclaughlin. Enter facebook10 at checkout if you feel the need to shop. )
What would make your day a little warmer? Leave a sunny comment and become a pve follower if you are not following already!