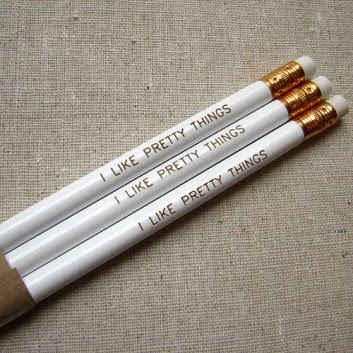 I like pretty things. Last night before I went to bed, I decided to keep a pencil and a pretty journal near my bed in order to record all of my dreams.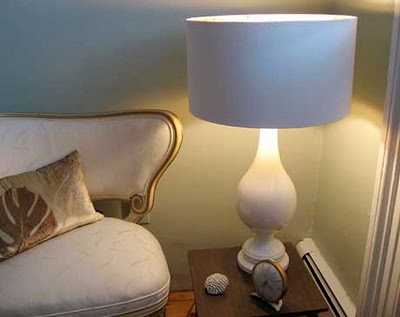 If I should wake, I would hop over here, jot down all of my dreams (under the light of this pretty white lamp found
here
) which began to look like this.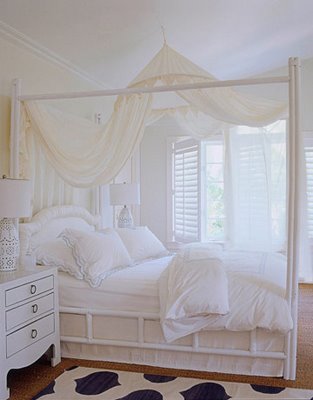 I had a dream last night about pretty white stuff. I dreamt I woke up here under this pretty canopy of white.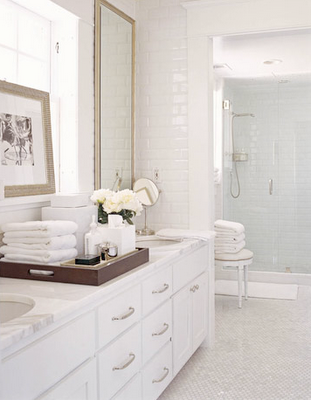 I stumbled out of bed into this pretty white bathroom, and took a lovely shower. I loved the stack of fresh towels at the ready. It sure beat having to holler for a "towel, please!" The fresh white flowers were a nice touch too.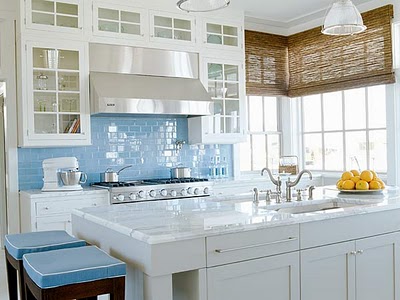 Then I dressed in all white and went to this dreamy kitchen to prepare myself an all white feast of french toast with powdered sugar, white cocoa and a plate of bananas, fresh yogurt and blueberries. How does that sound to you, pretty, right.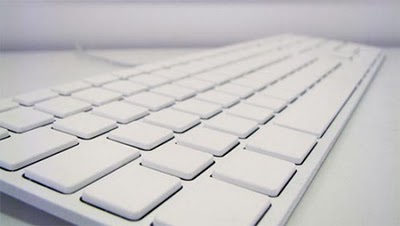 My all white keyboard was calling out to me to come and check my blog for comments as well as e-mails and then to get to work.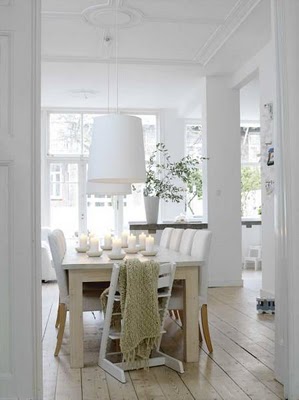 This space is too pretty to show only once. I have twins, so that is my excuse.
(Pretty Double entendre )
The design meeting would take place in a studio like this, lots of light, a large table to view designs, lots of chairs, kid friendly chairs too – should my client need to bring a wee one along.
Moms understand Moms. Candles would be lit to clear the air in the fragance of "White Fir."
A large inspiration board full of images at the ready. Some fresh white tea would be offered and some heaping plates of biscuits (and gravy) too. ( No a white tin of biscotti silly.)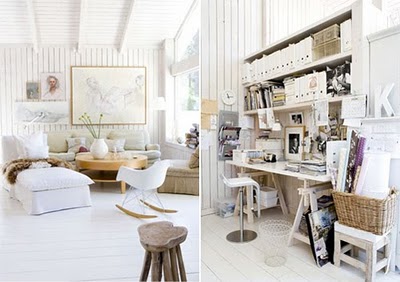 Right around the corner would be a slightly more "cluttered" think tank where the work would really happen. All this juxtaposed by a pretty corner couch and chaise and a wall of art with stories. I crave a bit of ordered clutter in my day as well as my dream. I like to call my style "vintage modern"- I guess I just cannot help myself, I need to look back but push forward.
I suddenly woke up to a squeal as I looked out the window at pretty white stuff, white snow, bright snow and realized my dream of pretty white stuff was real. I had been blanketed in white. I did have a little "premeditated" help with this dream, as school had been cancelled yesterday before the snow gods had even begun to shower us with pretty white stuff.
Can you blame a gal for creating a pretty white dream? Do you dream in color?
I am hopping back into bed for a little reading and some more dreaming.