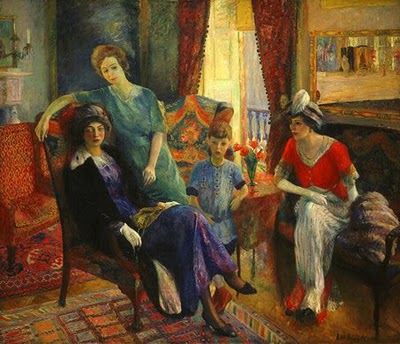 "Family Life" William Glackens 1912
Each week, I meet with a group of ladies to knit, to taste and to talk of life. I really truly feel that they provide some sort of
life support
. The issues we face are there for each of us, as we grapple with juggling life, fashion, finances, interiors, knitting, children, husbands, teens, illness, politics, education, exercise and love. (Mind you not in any order.)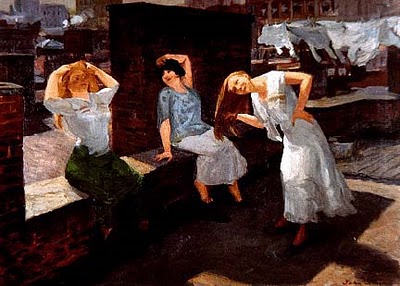 John French Sloan, "Women drying their hair – Ashcan Group of Painters
I began this group a few years ago out of wanting a dedicated time to create, to knit and to come together with other ladies. Each of us are unique individuals bringing a richness to our tapestry with a variety of yarns and tales. The stories we share, the challenges we face, be it aid in deciding the next family meal or next new book or hair style, we thrive in all the seasons. When a storm hits we take shelter and each feel the neglect of nourishment that we garner as a group.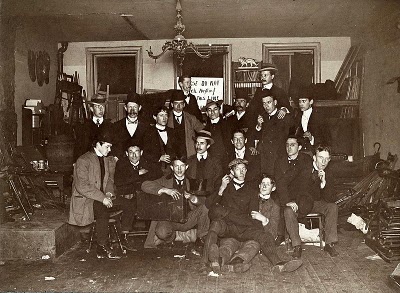 John French Sloan Studio (and friends)- Ashcan school of painters 1900's
All of this leads me to wanting to lead a tutorial of sorts for other ladies (and gentlemen) with some sort of inspiration to design a sort of group or creative passion that can add support to your life. Would you pay for tutorials or a series of classes on line to aid you to take steps toward fulfilling your dreams of perhaps a creative endeavor. Lately, I am in awe of my readers and the many e-mails that I receive on wanting to begin a creative venue and need to know where to begin. Tell me if you would be interested in an on line class and what would you like to learn to add support to give you the encouragement to start something new.
What are you waiting for to live the life you deserve and want?
Grateful to each of you and your comments and your support.