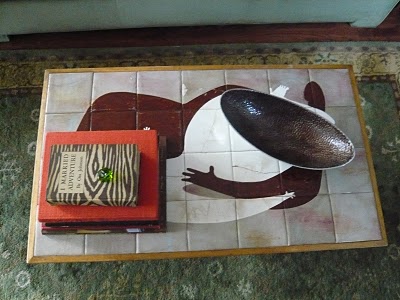 Original coffee table designed and made by Frances Newman, previous owner of our home
She came with the house, the original owners left her behind for us. She was made by the owner who was an artist. We loved this table for many years and always "talked" of making a change.
Part of us felt she belonged here and the other part wanted to replace her. Our quest began to find a new table. My husband and I love to shop with one another and as he likes to say, "leave no stone unturned." He can exhaust me with the amount of research. I call him Mr. Consumer Report. We have all the issues to refer to for appliances, gadgets and more.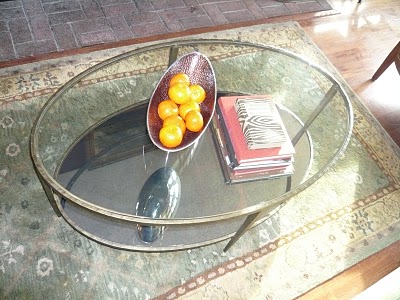 new coffee table from crate and barrel
The search came to an end. Meet our new oval shaped table. We had looked at several second hand shops, many stores and one day while returning an item, I happened to run into this table
here
. I had several gift cards from some acrued points and a pleasant sales associate who indicated a discount that happened to all lead to good timing. It was perfect, two levels, glass, and the bonus of the bottom being mirrored to reflect and radiate light from our fire as well as our southern exposure. The edge is lovely, sort of uneven, hammered and the height is perfect.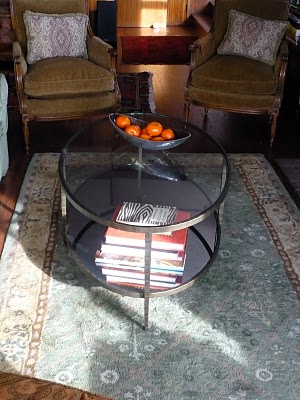 Enter, new gal, she is a nice oval shape, two levels, the lower level is a wonderful spot for books and the upper for holding bowls of clementines and drinks while we sit by the fire.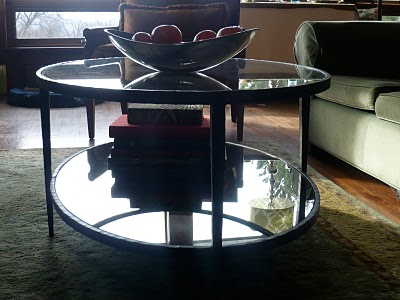 Now that this new table is a member of our home, I think the table is talking me into getting a new rug and I also heard some comment about the couch looking "sad." Funny how a change can lead to another change. The rug has seen lots of life and been well loved but now I see something sleeker, textured and perhaps a geometric pattern. Talk to me, tell me what rugs are talking to you?