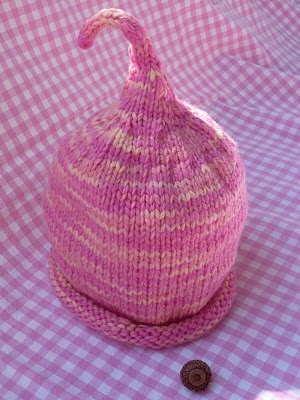 pve design hand knit baby "acorn" hat – available in my etsy shop
Many of you know that as an artist, we normally have more than one trick up our sleeves. Creativity is an essential element for everyone so please don't think that creativity is only for artists, writers, musicians.
Today is knitting day, several years ago, a dear friend and I were chatting about how much fun it would be to take some time to meet and to knit. I would put on a pot of tea or coffee and we would meet. Our group grew and then we each decided that it would work best as a sort of "lunch" hour so the person who hosts serves lunch. We rotate homes, no schedule, just a time to gather, bring our sticks and strings and knit.
As my pve business has grown, I began taking artwork feeling like I could not waste a moment to knit, but I realized that was like bringing your work to a golf outing. So today, the first meeting of the New Year, I resolve to knit, to give myself permission to knit, to feel the yarn, and appreciate each knit and purl whilst we keep one another in stitches. I would encourage each of you to set aside some time to meet with a friend, sew, knit, or select a craft that ties you together. In this world of fast paced techno-tronic over drive, it sure is nice to meet face to face, knit, nosh and chat. The laughter, learning, the creativity, the support and the link to friends is so crucial on a regualar basis. The continuing act of creativity keeps us young.
Tell me, do you have a "creative" group that meets weekly? It will add years to your life.
(By the way no.7 is the winner of the "French" pattern giveaway and it goes to Joyce at Perfect
Beginning – Woo hoo, congrats to you!)