Pardon my speedy scan, but in my haste to post and make the lunches for my back to schoolers this morning, I remembered when my boys were little we loved making our very own Winter Igloo. If you have enough snow or marshmallows, this is such a fun thing to do!
Take a look
here
or
there
a little how to. We used plastic boxes, filled with snow and built round and round and packed the snow. Inside the igloo is surprisingly warm!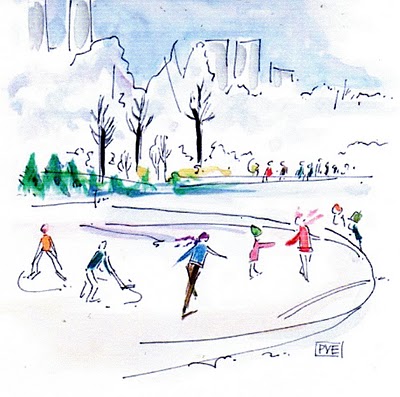 Not enough snow for an igloo, then how about a little ice skating fun. The above illustration was commissioned a few years ago for a lovely
lady
and it still happens to be one of my personal faves. Do you partake in any Winter games or sports to stay active? Have fun and stay warm!
All the warm wishes have really helped me to feel like my old self again, Thank-you to each of you for your kind comments. Like a spoon full of sugar, you make the medicine go down!