Park Avenue Potluck Celebrations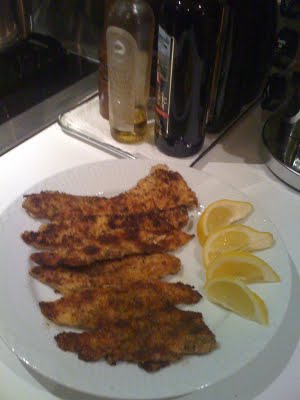 From the kitchen of pve design -"Bobby's Crispy Chicken Cutlets"
Kelsey over at The Naptime Chef invited me to join in on the virtual "Park Avenue Potluck Celebration" and she sent me this easy recipe for;
Bobby's Crispy Chicken Cutlets
2 pounds skinless, boneless chicken breasts, pounded to 1/2″ thick
3/4 cup all-purpose or whole wheat flour
Salt and freshly ground pepper
2 large eggs
2 cups bread crumbs made from 10 ounces country bread, crusts removed
2 teaspoons minced dill or other herb
2 tablespoons extra virgin olive oil
6 tablespoons (3/4) stick unsalted butter ( I used less)
Lemon wedges, ( I used 2 lemons!)
Cut the chicken into strips about 1 inch by 2 inches. Season the flour with sat and pepper to taste and spread over a dinner plate, beat the egg in a shallow bowl. Place the bread crumbs on another plate and mix with dill.
Dust the chicken strips with flour, dip in the egg, then coat with bread crumbs. Arrange them on a platter, cover with plastic wrap and refrigerate up to 2 hours.
Heat the oil and butter in a large skillet over medium – high heat until the butter is melted.
Fry the Chicken strips, turning each once, until lightly brown.
Plate and serve, either warm or at room temperature, with lemon wedges.
"My children love Chicken Cutlets and these were so good, the first plate that I served, I went to fetch my camera to take a photo and came back and they were gone! They loved them, especially the addition of the lemon squeezed on top!"
Enjoy these with a salad or some fresh veggies.
Hop on over to see the virtual "Park Avenue Pot Luck Celebration"
here
. Hope you are inspired to host your very own Pot luck, be it on the avenue or street where you live!
Thanks Kelsey for this easy and tasty recipe and for including me is this Virtual Feast!