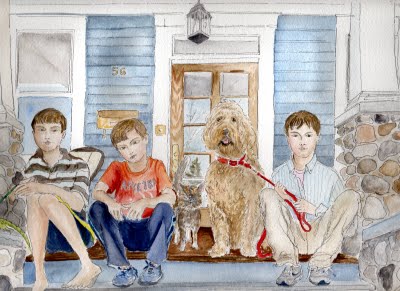 "boys" -a commission – pve design artwork, watercolor on arches aquarelle paper, 16 x 20,
These boys posed for a "candid" shot and they were less enthralled to be there – I loved working on this one. I got lost in the old adage, "boys will be boys." You can imagine how hard it (was) to get three boys, one lizard, a cat and a dog to pose in harmony. I love the nonchalant attitude of each boy that I was able to capture.
This art will be used for a holiday card. I hope that this will be a nice memory for them as a 4th little bundle of joy is en route to rock the world of boys, and we are hopeful for a girl to add some sugar and spice.