Artist Interview with Maia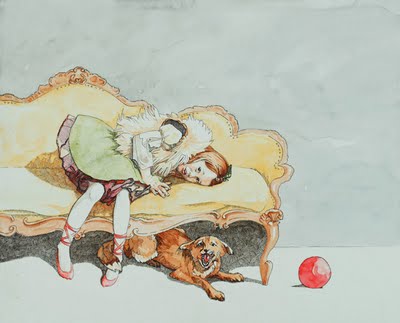 Pve Design -Interview with Maia Chavez Larkin;
pve; Do you create daily?
Maia; Only during periods when I am working on a large or ongoing job.
I'm the mother of a two-year-old with medical needs adopted from China just over a year ago, and I have chosen not to put her in daycare. She is my only child and it is very important to me to spend as much time with her as possible during these formative years. I know that when she is in school I'll have more time for work. Right now time is a balancing act, and that's fine with me. As much as she takes time away from my studio days, she also inspires me in equal measure.
pve; When did you realize that you had the gift to design, to illustrate?

Maia;I was raised by artists and among artists, and I always sketched, but honestly in my youth the idea of being an artist did not appeal to me in the least. Even now, I have an aversion to using the word "artist" in relation to myself, and much prefer the word "illustrator". It sounds like a craft, something practical and rigorous, and that appeals to me. I actually started out as an architectural illustrator after attending the New York School of Interior Design in the mid-'90s. I loved the precision of hand drafting (now a lost art, since AutoCAD!), and the perspective, craftsmanship and attention to detail that went into architectural illustration. From there, I started doing commercial illustration on a freelance basis, and taking the odd request for a commissioned piece of art. I still work freelance, though I take fewer commissions now that my daughter is home. My mother (oil painter Eva Van Rijn) and I occasionally collaborate on a show together. Our traveling show Red Canyons/Blue Space (images of the Grand Canyon and the Black Canyon of the Gunnison) has shown at the Fletcher Gallery in Woodstock New York and the Kiesedahl + Calhoun Gallery in Beacon, NY to critical success. My mother's a terrific artist who paints birds and landscapes, and it's always an honor and a pleasure to work with her.

pve; What is your favorite art supply shop and what supply would you suggest to other artists that they might like?

Maia; I love Pearl Paint in NYC and am still faithful to it, even now that I live halfway across the country. But here in Denver I sometimes go to Meininger's. I work in a fairly limited number of materials: I use drafting leads instead of artist's pencils for sketching, a throwback to design school. (I also still use white Mars plastic erasers, and a drafting brush so that I don't get the oil from my hands on the cotton paper!) I use India ink and Pigma Micron pens in 01 and 005. I use Arches hot press paper (I think hot press is a bit unusual for a watercolor artist, but I work in a very tight and highly-detailed style – I find the thick, smooth heavyweight paper – like bristol vellum but much finer and more absorbent – perfect for this kind of illustration) I use primarily Holbein watercolors, though I have had to pay much more attention to the toxicity of various pigments since having a toddler around my feet!

pve; Where do you look for inspiration?

Maia; I look everywhere for inspiration. I am very inspired by fairytales at the moment – their darkness and complexity. Also classical children's books. I am constantly inspired by the drawing style of architects like Frank Lloyd Wright. I love classical etchings and keep books of them around my studio. I am inspired by fashion photography. I'm inspired by literature (I listen to audiobooks constantly while I'm working – at the moment Joanne Harris' books are in heavy rotation in my studio) I am inspired by theater and film. I am inspired by the taxidermy at Deyrolle in Paris, by Natural History museums and by fine architecture. I also photograph children everywhere I go, because so often a specific child inspires me to a certain kind of image.

pve; How has having a child influenced your work?

Maia; Ah – you anticipated that part of the equation! I started doing children's illustration and portraiture about four years before adopting my daughter. I think the inspiration to do children's work and the desire for motherhood coincided in me. I think all children are probably a bit magical each in their own way, but my daughter is most definitely a creature who lives between worlds. She is transcendent. She sets a magic wand to the world as she walks through it. She is a tomboy, not a princess, but snap photos of her and in each frame there is a different character. She wears a thousand robes. I have always loved tough, dauntless characters like Pippi Longstocking, so my fearless tomboy daughter is the perfect muse for me.

pve; Who is your favorite artist? (past or present?)

Maia; Oooooooooooh…………Oh. That's a tough one. Actually, that is an impossible one for me. I am a great fan of French artist Mathurin Méheut, particularly his animal studies. Swedish painter Carl Larsson is also one of my ongoing inspirations. I am a great fan of John Singer Sargent. My life would not be complete without Sandro Boticelli, or the sketchbooks of Michelangelo. Danish illustrator Kay Nielsen (East of the Sun and West of the Moon). Modern-day French/Italian illustrator Yan Nascimbene. The TinTin comic books by Hergé that I grew up with during my time in France… Oh, I could go on. Sorry – there's no choosing just one. Oh, and my dad (WPA artist and National Academy of Design member Edward Chavez) was pretty great.

pve; thanks for your time, your work is absolutely wonderful.

Maia; Thanks for the opportunity! I've really enjoyed getting to "know" you during the interview here, and I so enjoy your blog and your work!

pve; I love to inspire others to create an artful life!
Thanks for inspiring me as well as others Maia. Maia has a wonderful site, and not one but two blogs. here and here
Thank-you Maia for posting a little "good thing" for me too.